Leaf Relief Gutters Albany NY
Please call us at 518-418-5464 with any questions or to request a free estimate!
Gutters in the Capital Region of NY are a big topic of homeowner discussion. Gutter King's answer is: Leaf Relief®.
Leaf Relief has proven to be the most effective gutter protection system on the market. Its patented Aluma-Perf™ technology prevents leaves, ice and snow from clogging your gutters allowing water to flow freely.
Easy to install — Leaf Relief mounts directly to your gutter. It will not void your roof warranty because there's no need to disturb shingles or drive nails into your roofing.
Stays securely in place — withstands winds up to 110 mph1
Virtually invisible from street level
Drains up to 29.7 inches of water per hour2. (The highest amount of rainfall ever recorded was approx. 12 inches of water in an hour in Holt, MO in 1947.)
Prevents costly damage from ice dams and overflowing gutters
Pest resistant — sturdy aluminum construction resists damage from bugs, squirrels, raccoons and birds
Eliminates the need for routine gutter cleaning
Backed by a 25-Year No Clog No Overflow Warranty
1Testing conducted by Intertek Testing Services NA LTD
2Testing conducted by Architectural Testing, Inc.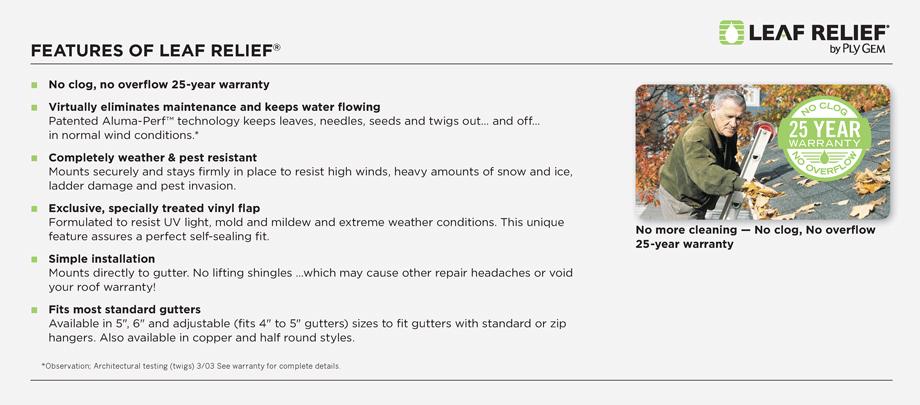 If you have any questions, or to request a free estimate for your gutter project in Albany, Clifton Park or anywhere else in the Capital Region, call 518-418-5464.